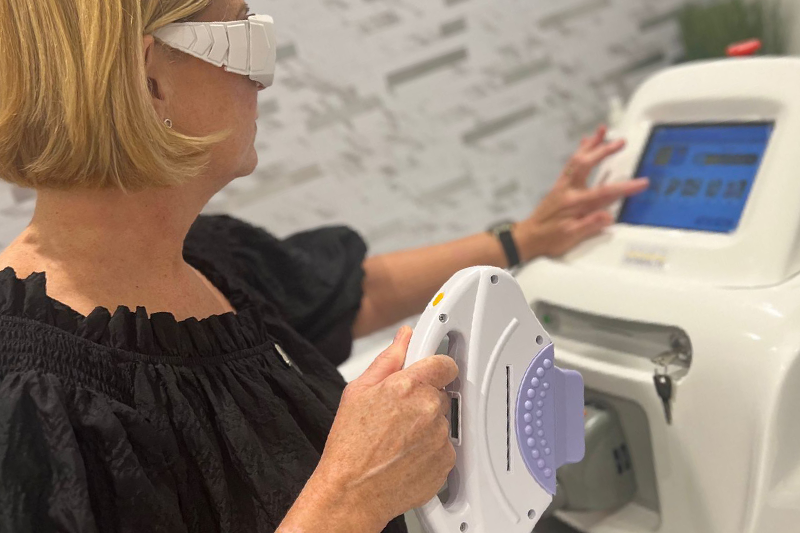 Experience the Power of Light: Reveal Your Radiance with Dermalite IPL Treatment
Introducing the Dermalite IPL (Intense Pulsed Light) treatment – your pathway to radiant, youthful, and hair-free skin. This cutting-edge, non-invasive skincare and hair removal procedure is designed to rejuvenate your skin and eliminate unwanted hair, serving as a two-fold solution to your beauty needs.
Dermalite IPL – Your Skin's Best Friend
Transform your skin health and appearance with Dermalite IPL. This treatment caters to a spectrum of skin issues, from sun damage and age spots to acne scarring and pigmentation. Whether you're seeking to enhance your skin's youthful glow or combat specific skin concerns, Dermalite IPL is your ultimate solution.
Key Benefits of Dermalite IPL Treatment
Broad Spectrum Solution: The Dermalite IPL treatment is designed to address a wide range of skin concerns, including uneven pigmentation, sun damage, redness, acne scarring, and visible signs of aging.

Stimulates Collagen Production: One of the key advantages of the Dermalite IPL treatment is its ability to stimulate collagen production in the skin, helping to improve elasticity and reduce the appearance of fine lines and wrinkles.

Non-Invasive with Minimal Downtime: As a non-invasive treatment, Dermalite IPL ensures minimal discomfort and requires little to no recovery time, letting you return to your routine immediately after each session.

Customized Care: We understand that everyone's skin is unique. Hence, each Dermalite IPL treatment is tailored to suit individual skin types and conditions, ensuring optimum results.

Dermalite IPL – Say Goodbye to Unwanted Hair
In addition to skin rejuvenation, Dermalite IPL provides effective hair removal solutions. It targets the pigment in hair follicles to inhibit future hair growth, leaving your skin silky smooth and hair-free. Suitable for various skin types and hair colors, this treatment offers a long-term solution to unwanted hair.
Key Benefits of Dermalite IPL Hair Removal
Long-Term Results: Dermalite IPL hair removal provides long-lasting results, minimizing the need for frequent shaving or waxing.

Precision: The technology allows for precision targeting of hair follicles, leaving surrounding skin unharmed.

Fast and Efficient: Dermalite IPL can treat numerous hair follicles simultaneously, making it a quick and efficient hair removal method for larger body areas.

Adaptable: It works on a variety of skin types and hair colors, providing a versatile solution to unwanted hair.
Unlock the secret to radiant, younger-looking, and hair-free skin with Dermalite IPL. Your journey to an enhanced version of you begins here.
Book Your appointment today, and experience the ultimate luxury treatment.
---
Dermalite IPL Treatment Pricing
LIMITED TIME OFFER: 35% OFF Your First IPL Therapy Treatment.
Please call Beautifully Gorgeous Hair & Beauty on 01202 734161 to arrange your pre-session consultation.
*Note: A consultation with our professional skincare experts will be required before any treatment is undertaken.