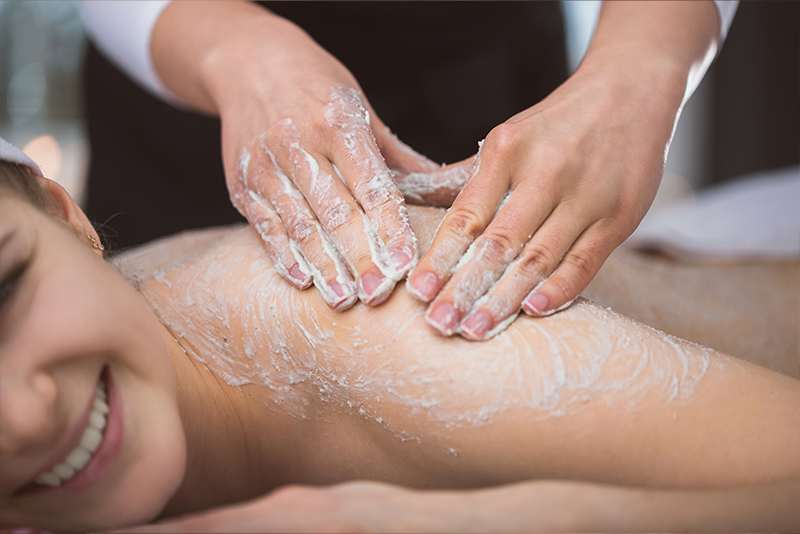 Body Treatments
Discover the ultimate way to relax, rejuvenate and restore your natural glow with our bespoke body treatments. Specially designed to offer you an oasis of tranquillity, these treatments will leave your skin feeling fresh, hydrated, and radiant.
---
1. Body Polish - £30
Elevate your skin's natural glow with our invigorating Body Polish treatment. Combining the healing power of Mineral Sea Salts and Seaweed, this treatment exfoliates your skin, clearing away dead cells and revealing the softer, smoother skin beneath. Enriched with natural oils and extracts, this treatment stimulates your senses while cleansing and conditioning your skin. The warmth from the treatment not only enhances the efficacy of the products used but also invigorates your mind and body, leaving you refreshed and relaxed.
---
2. Reflexology - £32
Balance your mind, body and soul with our revitalising Reflexology treatment. This ancient healing practice focuses on specific pressure points within your feet to help correct energy flows throughout your body. Our experienced therapists use unique methodologies to stimulate these areas, helping alleviate stress, enhance circulation and support overall wellness. Treat yourself to this holistic therapy, and experience tranquillity like never before.
---
3. Hopi Ear Candles - £30
Step into a world of soothing tranquillity with our therapeutic Hopi Ear Candles treatment. An age-old practice, this non-invasive treatment is renowned for its natural benefits, including relieving symptoms associated with sinusitis, headaches, migraines, and ear aches. Experience the warm comfort of the ear candles, as they work their magic, promoting overall ear health and balance.
---
Body Treatment Prices
| Service | Description | Price | Book Online |
| --- | --- | --- | --- |
| Body Treatments | Body Polish | £30 | |
| Body Treatments | Reflexology | £32 | |
| Body Treatments | Hopi Ear Candles | £30 | |
---
All prices are subject to change and treatments are subject to availability. Book an appointment today and pamper yourself with our exquisite services at Beautifully Gorgeous Hair and Beauty.
---
Ready to enhance your beauty experience? Don't wait another moment – book your appointment today!
To schedule your appointment, give us a call at 01202 734161 and our friendly staff will assist you in finding the perfect time slot. Alternatively, you can easily book online by clicking the link below. It's quick, convenient, and allows you to secure your preferred date and time with just a few clicks. At Beautifully Gorgeous Hair & Beauty, we can't wait to welcome you and provide you with a rejuvenating and transformative salon experience. Don't miss out – book now and let us help you look and feel your best.